About Our Auto Service Contract Company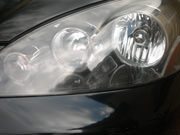 When working with National Automotive Services, you may notice that our extended auto service contract company does things a little differently than most businesses do. We strive to make this apparent from your very first interaction with our company all the way through to processing claims for auto repairs under our extended service contracts.
We treat each customer with respect, friendliness, and understanding throughout every interaction. Whether we are dealing with a long-time customer who has made several claims under their contract, a new customer who has just purchased a vehicle service contract, or someone simply looking for information on extended auto service contracts, our team will provide the answers and assistance needed.
While this may not be how most companies do business, at National Automotive Services, we believe that this is simply what every person deserves.
An Auto Service Contract Company for You: Who We Are
Our company was founded with the belief that vehicle owners should never have to receive the bad news of an unexpected and costly out-of-warranty automotive repair bill. We are a group of service-oriented people who have experience in both the vehicle maintenance and finance fields. We understand that times are hard as families across the country struggle to keep budgets in check. With budgets already stretched and the rising costs of auto repairs, the last thing any family or individual needs is a unexpected $3,000 auto repair bill or the uncertainty that remains even after a repair is completed of not knowing when another unplanned expense or repair will be required. Our automotive service contracts help relieve this uncertainty and eliminate the hassles of unexpected vehicle repair bills.
In addition to offering quality auto service contract products and outstanding customer service, our company's success is guided by our respect for each customer's right to privacy. We have developed and adhere to a strict privacy policy throughout the course of offering vehicle service contracts and processing claims for repairs. Unlike many auto service contract providers, we collect limited personal information in order to provide potential customers with a quote for their auto service contract. This helps further protect your personal information and allows you to avoid unwanted calls and emails.
Our Auto Service Contracts
Our company offers automotive service contracts at a variety of levels in an attempt to meet the needs of different individuals or families. From our basic PT Gold package with powertrain and expanded coverage and our Deluxe package offering downgraded and affordable component coverage, to our Platinum or Diamond packages providing higher levels of protection, our service contracts are all excellent choices. With each of our available service contracts, we combine high quality, superior auto coverage, excellent service, low prices, and a respect for our customers. This sets our company apart as a leading choice for automotive service contracts.
To learn more about our available contract options and to select the best extended auto service contract for your needs, please contact our extended service contract company. You can also learn additional information about our products online from our Service Contracts page.